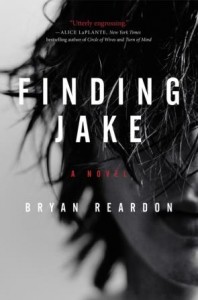 First line: "My name is Simon Connolly."
In this emotionally powerful and suspenseful novel,
Bryan Reardon
tells the story of a school shooting through the eyes of a parent. Simon Connolly is a stay-at-home dad who agonizes over all of his choices, words and actions. He wants to do what is best for his two children, Jake and Laney, but at the same time, he struggles with playdates and other social activities because he doesn't feel as though he fits in with the mothers--there are no other stay-at-home dads in his neighborhood.
Simon finds connecting with Jake a bit easier than Laney because he understands boy stuff. But Laney is out-going and social. She makes friends easily and wants to play with other children. Jake is more reserved, he isn't as driven to join in the neighborhood games and gatherings. He does however participate in sports: baseball, flag football, cross country. Jake and Laney adore each other, and in their own ways they are well-adjusted children.
And then the unthinkable happens. There is a shooting at Jake and Laney's high school. Simon receives a text message--as all the school's parents do--to proceed to a nearby church and wait for further directions. As a tense and terrifying day passes in the church, families learn the fates of their children, everyone except Simon and his wife, Rachel. All the students are accounted for but Jake, and now he's a suspected shooter.
Reardon's choice to tell this story through Simon's perspective builds a great deal of suspense that will keep readers riveted. It also emphasizes a hot button issue in violent situations like a school shooting--the role of the parents. Simon's self-doubt and his anger toward other parents highlight the impassioned and reactive responses of those who feel the most helpless.
In the shadows of the school shooting plot line is a rift that begins to form between Simon and his wife prior to the tragedy. It leaves some area for exploration on gender roles in parenting, the effects of tragedy on families, and the characters themselves, making this an excellent book club title.
The one element I found odd was Reardon's tendency to avoid contractions. He doesn't exclude them completely, but the prose is often more formal creating an almost stiff effect. It wasn't my belief that this choice for wording was a reflection on Simon's character as contractions didn't seem to be as rare in dialogue. It's definitely not a factor that should deter people from reading the novel, but it stuck out enough to be noticeable.
Sadly,
Finding Jake
is a reflection of the current times. It's tragic and heart-breaking, but Reardon also finds a glimmer of hope to pass along to his readers. Keep the tissues close and hug the ones you love.

Finding Jake
is available in hardcover from William Morrow (9780062339485) and as an unabridged audio (9781481533416), narrated by George Newbern, from Harper and Blackstone Audio.
My review today is part of the
TLC
book tour for
Finding Jake
, which continues through the first week of May. Check the
schedule
to see what other bloggers are saying about this powerful book from Bryan Reardon.
Disclosure: I do some contractual work for one of the owners of TLC Blog Tours. My work with them does not obligate me to a specific kind of review. The reviews are still my own opinions and reflect only my thoughts on the novels. If you care to read more, you can find more information on my Disclosure page.